My TOU
My personal TOU is:
Do not post my entire tutorial on any sites. Just share the url link. All my tutorials are of my own creations and can't be claimed as your own. Any resemblance to other tutorials is purely coincidental. If you need to contact me for any reason, you can reach me at mizzundaztood1@gmail.com. Also, if you would like to share your tut results with me, please send them to the above e mail address. I would love to see your view on what I have here! Hugz~ Karee

Saturday, November 9, 2013
10:11 PM |
Posted by Karee
|
Edit Post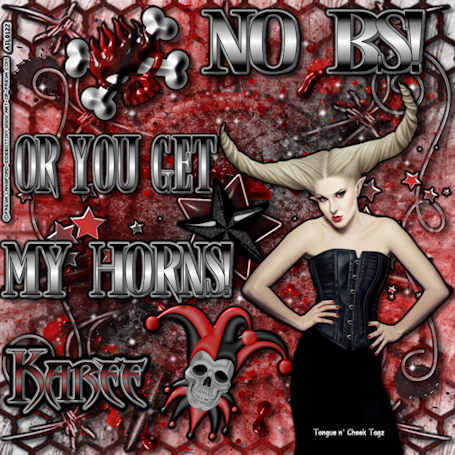 My Welcome Back Tut here is using Freya Langford-Sidebottom's tube Taurus available at AIL
here
. The kit is Alika's Scraps psp asylum. You can get it
here
. Ok, I start with a 700x700 cause I like them big. Plus, you can gradient glow and drop shadow, whenever you like with whatever you want. I used papers 7, 8, and 10 with three different masks. I put as05 in the upper right hand corner where I wanted it, duplicated the layer, and mirrored it. I duplicated that layer and flipped it, and I, again, mirrored. Two of the papers are in front of that, then you put as99 and place as you want. As01 was placed in the upper left corner, duplicated, mirrored, and flipped. I merged those two layers together. The same was done with as02, except on the other side. As29 was put on, duplicated, and mirrored, so they cross. As03 I put on the side like I wanted, duplicated, mirrored, and flipped, so there is one on either side. The third paper is in front of all that. As81 I put in the middle where I wanted and used effect Alien Skin Eye Candy bevel to make it look thicker. In front of that, I put as110 and placed where I wanted. From there, I put as20 on a side of the tag, duplicated, and mirrored. Next, I put as43 in the center with as23 in front of it, but I changed the properties on as43 as Luminance (L). This makes the color change. I placed as59 and as97 where I wanted, and I used bevel on both of them. After this, you use whatever tube you want with whatever statement you like to make on it. Plus, never forget, your copyright and watermark. Thanks for viewing my tutorial page and come back anytime. My email is here to contact me anytime or show me what you did with my tutorial. I would love to see anyone else's versions of my tutorials because I know I like to see what you all can come up with that is different. Thanks for waiting on me!! Glad to be here and alive!
Below, I used a tube I had from AIL by Wendy Gerber with the some differences in the background, and I used the tube Roxy by Verymany at Picsfordesign you can get
here
on the on top tag. Enjoy!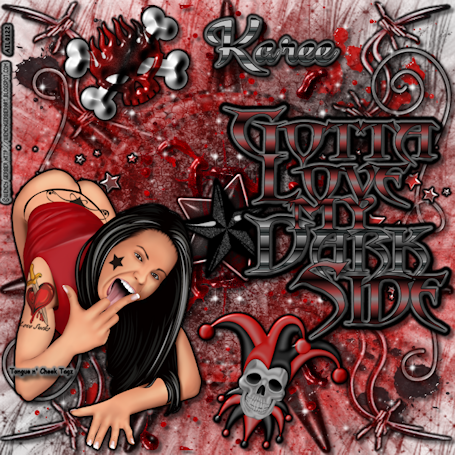 Labels:
Alika's Scraps
,
Freya Langford-Sidebottom
,
FTU
,
Verymany
,
Wendy Gerber
About Me
Dismal, Kansas, United States
My name is Karee, and I am a single woman with no kids, except my cat, Onyx. I have been doing tags and PSP for quite some time. It has to be over 6 years, but I haven't kept track. It is what I do to relax and have fun. I run a tagging group on My New Boomer Place, but it is called Grade A Smartasses! Come over there to join in. Hoping to have more FTU and PTU tuts here for you all. Tongue n' Cheek Tagz means I put a statement on my tags, so mine have more than just a name on them! Hugz~ Karee Btw, I can't seem to get blinkies to work on my page for right now. I CT for AIL and follow a lot of blogs. As soon as I can get them to work, I will try to get the blinkies up to make them accessible.
View my complete profile

Blog Archive