My TOU
My personal TOU is:
Do not post my entire tutorial on any sites. Just share the url link. All my tutorials are of my own creations and can't be claimed as your own. Any resemblance to other tutorials is purely coincidental. If you need to contact me for any reason, you can reach me at mizzundaztood1@gmail.com. Also, if you would like to share your tut results with me, please send them to the above e mail address. I would love to see your view on what I have here! Hugz~ Karee

Sunday, August 24, 2014
6:21 PM |
Posted by Karee
|
Edit Post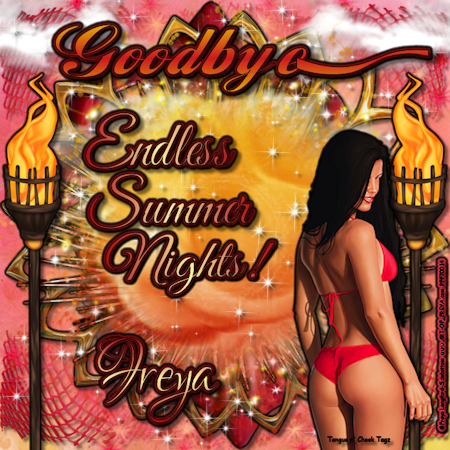 Ok, I am using the beach bunny tube from the emag from June 2014 Issue 08. You get get it
here
. I used the kit Tropicos Caliente from PinkParadox Productions. You can get it
here
. It is my ode to summer ending. I began with my image of 700 x 700. You can gradient glow and/or drop shadow to your liking at any time in this process. I used papers 22, 24, 27, 28, and 29. I used masks AP_SparkleMask2, b, and chas22mask. I am thinking you can get them all at Creative Misfits Creations
here
. The last layer is paper 24 with mask b. Next, I put element 97 the way I wanted to see it, duplicated, flipped, and merged together. Papers 22, 28, and 29 are all in front of that sized how you want with the AP mask. Element 79 was put how I wanted and sized how I wanted, duplicated,flipped, moved to where I wanted, and merged down. Frame 1 is in front of it. Might want to put is sized how you like to get element 79 right. Element 76 was colored how I wanted and placed where I wanted in front of the frame. Element 142 was placed where I wanted, duplicated, mirrored, and merged down. Element 144 was put in front of that how I wanted. Paper 27 is in front of that with the chas mask in a size you like. Element 143 was placed and sized how I wanted, duplicated, flipped, and merged down. Element 93 was placed on the side at size and place I wanted, duplicated, mirrored, and merged down. From there, you can place your tube, the copyright, your watermark, a statement, and a name. Hope you enjoy it! It is very different for me, but I like new things.
Labels:
CT
,
Freya Langford-Sidebottom
,
Pink Paradox Productions
,
PTU
About Me
Dismal, Kansas, United States
My name is Karee, and I am a single woman with no kids, except my cat, Onyx. I have been doing tags and PSP for quite some time. It has to be over 6 years, but I haven't kept track. It is what I do to relax and have fun. I run a tagging group on My New Boomer Place, but it is called Grade A Smartasses! Come over there to join in. Hoping to have more FTU and PTU tuts here for you all. Tongue n' Cheek Tagz means I put a statement on my tags, so mine have more than just a name on them! Hugz~ Karee Btw, I can't seem to get blinkies to work on my page for right now. I CT for AIL and follow a lot of blogs. As soon as I can get them to work, I will try to get the blinkies up to make them accessible.
View my complete profile

Blog Archive